My mum is in Japan right now so she missed my birthday and had said to me she left something with my dad to give to me. I had no idea this perfume existed until now! If you can't really read the label it says
Musc et Freesia
. Gosh it smells so good. I've been sneakily using a man's perfume until now. There's something about some of them which I really like having on myself.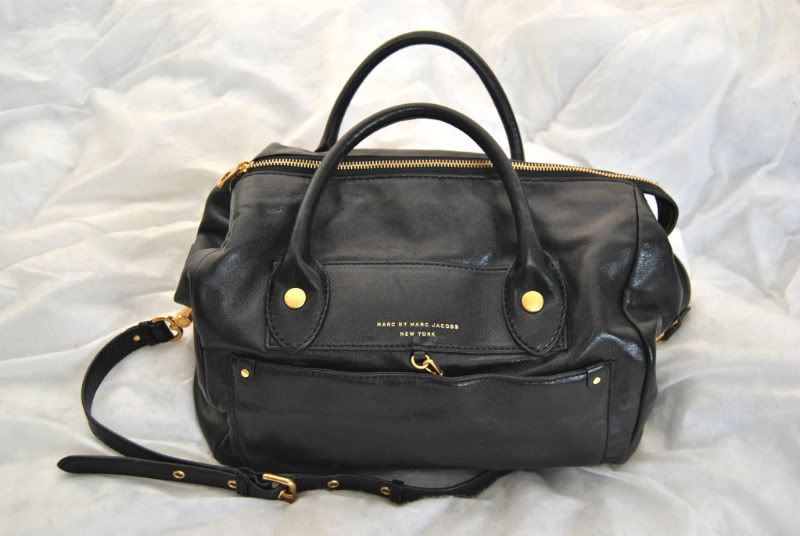 Hello people! I had my last day of school bac party yesterday and it was amazing. I left a tad earlier than everyone because it was getting chilly and I needed a nap before going out. So here I am to show you that present I picked out. It's the marc by marc jacobs pearl bag and oh jeez it smells really lovely. Although the bags with the plaques are cute, I love how understated the logo on this bag is. The pocket in the front has a card holder slipped into of which you can see the top of (where it's attached to the bag. Am I making any sense?) and it has another pocket on the other side. There's a strap inside the bag to maintain the shape but you can unbutton it to make the bag a tad wider to carry more stuff in it. It's a good sized bag for a short school day, a day out in the park or a lunch date but it's also good for a night out because it's big enough for me to fit my camera, flash, wallet and heels in it.
BLOGGING BREAK - I really have to concentrate on studying so I've decided to stay off blogger and lookbook until I've sat my chemistry exam but I will still answer any questions you leave or send to me by email. I told myself I would try not to take a break because I don't like getting out of routine but it's kind of necessary at this point. I want to go to my first choice of uni so so so bad which means I need to put my heart, soul, brain and every last bit of my anatomy down to my little toe into studying. I'm sorry. I'll be back.